March 21, 2020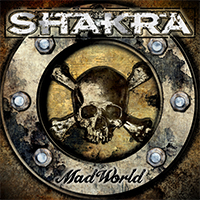 Starting the Shakra - Mad World album with breathtaking musical motifs Fireline raises the song's name with inspirational vocal refrains in chorus. Then Too Much Is Not Enough envelops the vocal narrative with twilight vortices, giving some shades of the epic saga.
Pulsating by the waves of drive, A Roll Of The Dice tightens and hardens the sound of the introduction, introducing a playful mystery to the vocal part. The power of musical rhythm and vocal reflections are intertwined in an enchanting chorus dance. Guitar solo instrumental pieces captivates with lace artistic improvisation. Title track Mad World captures with anticipations of wanderings and intriguing anticipation of exciting adventures.
Rolling an inspirational canvas of mid-tempo musical narration When He Comes Around combines in a single musical the image is an intriguing ballad of a verse with the majestic melody of the solemn chorus of the chorus. Thousand Kings develops an epic musical narration, introducing the influences of ancient legends and forgotten tales.
Changing the direction of musical stylistics with shades of hard blues I Still Rock captivates in a rhythmic journey, continuing this style a bewitching inspiration of intimate romanticism of the Fake News ballad. Keeping some shades of romantic experiences, When It All Falls Down captivates in a restrained drive, preserving the thoughtfulness of the mid-tempo rhythm and refraining from high-speed musical maneuvers.
Enveloping vocal phrases with a round dance of musical passages Turn The Light On brings some sparks of inspiration to the musical image. Fascinating with the intro's guitar solo, the Son Of Fire raises the banners of the hero saga, exalting the story of unforgettable warriors and chosen ones of the fire. The soft and gentle charm of the romantic ballad New Tomorrow completes the album with sensual reflections and the charm of the acoustic chime of guitar strings.