May 11, 2022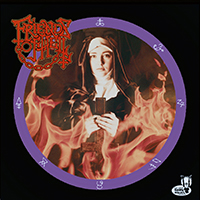 After the gloomy guitar solo of the intro, the Out with the Wolves composition begins the dark musical history of the Friends Of Hell - Friends of Hell album with a single vocals narrative, shrouded in shady musical passages. The cry of the victim of torture and torment begins the rolling sound of the rhythmic rolls of the Shadow of the Impaler song, rolling out the musical canvas before the procession of the vocal narration of the cruel executioner.
Accelerating the sound in the emotional guitar solo of the introduction, the Into My Coffin composition then weaves music and vocals in a single vortex, complementing the clean vocals with background harsh vocals. The Friends of Hell album's title track spins music and vocals in the twilight mystery of musical unity.
The leisurely and painful Gateless Gate musical story brings the vocal part to the forefront of the musical image, complementing the gloomy passages of instrumental bridges. The Evil They Call Us composition persistently, rhythmically and meaningfully drives the step of its procession into the musical canvas of the album.
After the introduction, the Orion's Beast composition elevates vocal reflections to the top of the gloomy covers of musical narration. The Belial's Bell gloomy fairy tale weaves a mesmerizing lace of music and vocals, anticipating the sparkling ending of the album by complicating the Wallachia song's rhythmic pattern and complementing its rhythmic structure.