September 07, 2019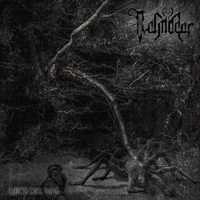 The enchanting musical canvas of the Ni Vida, Ni Alma (Intro) dark anthem begins the Ralmador - Hijos Del Mal album with the gloom of a mysterious mystery. Keeping the same inspirational dark grandeur, the Rey De Las Sombras song continues the musical narration of the pulsating heartbeats of a dense mid-tempo march.
Transforming into a dark stream of rhythmic drive En Su Reino Castigos Obtendran transforms with swift waves of verses and raises the banner of significance in the chorus. Enveloping the charm of musical passages, the El Silencio Es El Guia introduction then is carried away in a fast-paced race of rampant drive, but again returns in the instrumental composition to mysterious romanticism. Renacer Y Oscuridad continues in the introduction the mesmerizing romanticism of the final part of the preceding composition, but then demonic vocal screaming invokes the corresponding atmosphere of a dark majestic anthem.
The enchanting En El Olvido... piano solo introduces the next song, Ruinas enveloping the atmosphere of mysterious intimidation and the ghostly motifs of forgotten legends, complementing in the final part the atmospheric instrumental haze in a muffled vocal whisper. Nada Lograra Existir returns to the waves of the mid-tempo march, rolling gloomy experiences and then casting shades of dark melody in instrumental bridges. But Hijos Del Mal saturates the musical expanses of rampant drive, rushing in the deadly dance of a musical thriller. Inferno (Outro) completes the album with the muffled mystery of a symphonic romance.