December 04, 2019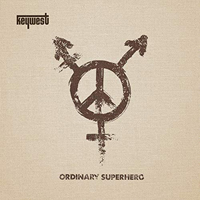 Everyday life of an ordinary superhero secretly hiding in each of us is described in detail in the Keywest - Ordinary Superhero album. It begins with full of hopes and desires Somebody To Love ballad, appealing to the understanding and sympathy of aspirations, perception of desires.
Then, the C'est la vie song, while retaining some thoughtfulness, doubting the possibility of an exceptionally positive outcome, it calls for maintaining hope and perceiving everything optimistically. The soft and sensual romance I'm Not Me Without You (feat. Una Healy), decorated with the female vocals of the invited artist, captivates with tenderness and romantic atmosphere.
Twisted with hopeful musical passages around inspired vocal phrases Don't Let Me Down awakens endless thirst for life. The title track Ordinary Superhero begins with meaningful confessions, then rolls the musical sheet of thought, returning to meaningful confessions in the chorus. How Did We Get Here? intertwines vocal phrases with an acoustic chime of guitar strings, captivating with bewitching melody.
Laying the beginnings of the main motive in the introduction What Are You Waiting For? then develops them in the verse, raising the vocal part to the top of the musical image in the chorus. Wear Your Love leisurely ballad gently and gently pacifies, dispelling anxiety and casting aside doubts. Feelings and emotions envelop romantic covers. Continuing the romantic atmosphere, This Is Heartbreak brings solo vocals to the forefront of the musical narrative, complementing it with the chorus of comrades-in-arms in the chorus. Blood, Sweat and Tears completes the album, enveloping the incredibly calm and native atmosphere of country style with a charming female backing vocals, introducing the trends of native places.