June 09, 2018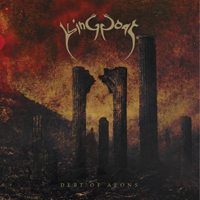 Beginning with lively leisurely reflections, the music visibly envelops the gloomy fog, supplementing the more saturated and dense passages with progressive shades. Then the vocals elevate themselves to the pedestal of the primacy, pointing the way to the Rapture musical images, occasionally adjusting their directions. The music of the first composition of the album unquestioningly obeys - a very interesting song comes out, worthy and majestic opening the King Goat - Debt Of Aeons album.
The Eremite's Rest main motive is hanging in a deliberately defined dance, enveloping the vocal phrases full of emotions, concluding the stanzas with the explosions of the growling. Bridges bring a mysterious thought, intriguing the further development of the composition.
The title track Debt Of Aeons continues the album with enchanting reflections, unhurriedly weaving the vocal narrative into a pensive romance, exploding with a combination of progressive musical passages and emotional vocal wails in view of the abundance of feelings. Heavy and ornate music as if wraps in obscure streams of experiences, turning music into a kind of straitjacket, enveloping incredible experiences. Vocals change the structure, complementing the pure vocals with harsh and growling
Instrumental symphony Psychasthenia raises expectations, giving the atmosphere of anticipation of the looking changes - vague voices against the background of a musical picture seem to arise out of nowhere and do not reveal their essence. Doldrum Sentinels reveals expectations, giving the music vague waves of drive, forcing presentiments and anticipation, throwing waves of anxiety. But the vocals seem to usher in royal blessings, which end with another wave of musical anxiety in the bridges.
- distortingly combines words and vague reflections with enchanting folklore motifs, rising in an enchanted sequel to On Dusty Avenues composition. It should be noted that the last song of the album weaves a lot of genres and styles together - but giving them the features of the chosen style. That's sounds like the kaleidoscope is playing before us, showing through the prism of its scopes all of the world around.