March 27, 2021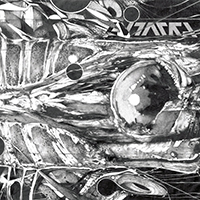 Instrumental intro Primitive Constructs begins the Autarkh - Form in Motion album with silent mysteriousness, continuing to the musical fierce of the Turbulence song, in which the vocal party envelops the twilight mystery of the musical haze. The Cyclic Terror holds back the pace of musical frenzy, combining vocal riddles with impressive complication of rhythm in progressive artistry.
The pulsating cleastage Impasse march ends musical tacts with severe beats, acting to the next chapter of the album, in which the Introspectrum introduces the shades of futuristic musical solutions, expanding the stylistic filling of the release. The Lost to Sight track continues stylistic discoveries, making the impact of repulsion of music by vocal recitative, ending with emotional vocal appeals.
The Metacognition muted musical mystery reveals the gates of the next section of this artwork. The exploding unrestrained rage of the Clouded Aura musical thriller, combining the deadly dance of musical vortices with vocal fierce. The Alignment track combines epic twilight of metall music with cleattees of the vocal party, more inherent to rap music style. The Zeit Ist Nur Eine Illusion completes an album with an unborn ratio and mechanical clanging.