June 24, 2021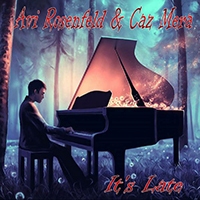 The soft chime acoustic guitar complements vocal meditation into the sound of the Raise Your Sails melodic bards ballad, revealing the gates of the Avi Rosenfeld - It's Late album for further musical development. Vocal meditation introduce intriguing tones of the When The Night composition, continuing to the inspired musical pessages of the Been Born That Summer Day song.
Snowys vocal appeals are assessed by teh And If You Love Me musical sensual to the highest level, bringing the shades of flamenco in instrumental bridges. Then the Be The One For Me vocals inspiration increases the tonality on an incredible height, bathing and rejoicing in the rays of the sun.
Music charm woven in the On The Road To My Old Home fascinating dance with vocal phrases, creating an atmosphere of approaching to native places. After the intriguing preparation for the chorus, the Yesterday I've Been Loving You song again and again emphasizes its name in it.
Music persistence again and again returns to the emphasis of the Its Been A Long Time track's name, impatiently and significantly emphasizing its meaning. Guitar solo goes to the forefront of the Remember Falling In Love Was Not Easy musical image, combined with intriguing vocal meditation. The title composition It's Late completes the album with a pacifying ballad, scattering impressions of fatigue.