May 16, 2021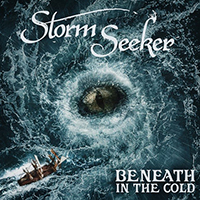 The Nemo composition begins the Storm Seeker - Beneath in the Cold album's music narration with an instrumental intro with symphony notes, preparing a listener to a bright and sparkling pirate debauch, embodied in the sound of the Drag O Below song.
Unity of command and unit, to whom the third party joins the Pirate Squad vocals captures a whirlwind hit musical extravaganza. After a romantic joining with a symphony influence, the Deep Sea Waltz intertwines music and vocals in a charming dance with folklore shades.
Accelerating the musical sound, topped with a bright melodium, the Drink Till Dawn increases the vocal grazing to the top of the musical image. Starting as a pensive ballad, the Barrel of Grog then gathers the entire pirate crew in the celebration. The Darkest of Caves symphonic saga combines a discreet drive, enveloping the vocal batch by the seals by the choral and charm of the symphonic musical lace.
After the Prophecy intro, the vocal part goes to the forefront of the musical image, alternating such a style with symphony instrumental bridges. Balladted meditation with a violin crying anticipate the development of the Plunderer and a Thief main motive, then accelerating in the mid-tempo unity of violin passages and guitar riffs around vocal phrases. The Rum song completes the musical narration of pirate saga with fellow comrades who celebrate successful raids and battles.