June 10, 2022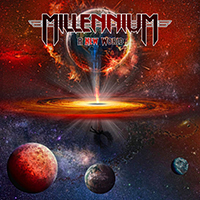 Music and vocals captivate in the unity of restrained drive and vocal significance, again and again emphasizing the Give Me A Sign title in the chorus. Drum roll will mark the approach of the coming World War 3, which rolls in waves of a battle march, crowned with mesmerizing guitar passages and persistent and unyielding vocal phrases. The title track continues the Millennium (GBR) - A New World album's sound with encouraging vortices and echoes of readiness for rebellion and resistance.
The introduction of the All Out War composition inspires confidence in readiness for trials, reinforcing the musical drive with vocals perseverance and sometimes slowing down somewhat for vocal reflections. Echoes of the ally's chorales bring echoes of ancient legends and epic fairy tales to the sound of the King Of Kings battle saga.
The guitar solo of the introduction becomes the basis for the development of the Assassin main motif, on which the vocal part then rides on in its pursuit. The Summon The Dragons intro fascinates with the artistic pensiveness of the itar solo, then rolling waves of unrestrained drive, raising vocal phrases to their crests.
The vocals and music of the Kill Or Be Killed composition are intertwined in a single whirlwind of exciting sound. The twilight appeals of the invisible magician weave the mysterious atmosphere of the introduction of the Obsolete twilight tale, in which the vocal phrases of the storyteller follow in cautious doubt. The Victory final composition raises the banners of triumph and celebration of proven valor and glory.