March 10, 2020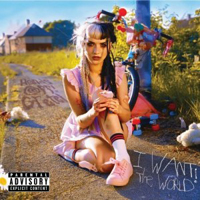 Vigorously and drivefully Kiss Me Girl raises the whirlwind of musical sparks, bringing an emotional tones by harsh vocals. Fiercely weaving vocal and musical passages in the S.A.S.S intro's dance, after a pause, deviates towards unexpected stylistic decisions, introducing some rap trends into the Hands Off Gretel - I Want The World album with a recitative verse, but the chorus raises the vocal rebellion to punk rock. But the final part is welded with vocal melodies filled with romanticism.
Bringing the vocal part to the forefront of the musical image, Big Boy guitar riffs drive the vocal narrative with their pulsations. It's My Fault weaves a romantic lace of bewitching ballad. The children's voice begins the title track I Want The World, interweaving the rebellious cries of music and vocals in an exciting musical stream.
Starting with saddened romance, Blame Myself then speeds up the pace and weaves vocal phrases in an impressive whirlwind of vocal duet. Pointing out the vocal appeals of the development of musical style, several styles and genres are interwoven in the Alien composition. Musical passages raising the vocal part to the top of the solemn procession of the Freaks Like Us inspired ballad.
Bringing notes of despair, the vocals explode in a furious scream, Milk continuing along with a stern musical march. But the vocals intertwine the duet with confidence about the readiness to battle with any adversity, exploding in the Fingers chorus with a violent battle cry. My Friend Said brings some country style influences to the album, but then complements these musical passages with a note of drive. Bringing vocal phrases to the top of the narrative Rot (All The Good Things) completes the album with freedom-loving rock'n'roll spirit.