March 08, 2020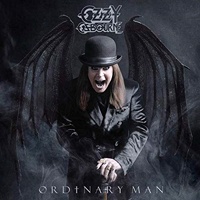 Accentuating the vocal part, the musical passages of the Straight To Hell song are in a whirlwind of a pulsating musical beat around vocal phrases. The inspirational narrative of the bewitching All My Life ballad continues the Ozzy Osbourne - Ordinary Man album with encouraging phrases, accenting the name of the song in the chorus, wrapping them in romantic musical covers. The guitar solo of the instrumental part captivates with its artistic melody and sparkling chime of musical variations.
Powerful rhythmic drum beats precede a distorted curse on the loss of memory, then Goodbye vocals walk thoughtfully at a leisurely pace, preceding the stream of drive, departing from the guitar solo returning to a leisurely pace, but coming back with a vocal part. The title track Ordinary Man (Feat. Elton John) rolls in waves of soft romanticism, intertwining piano with vocal narration in a bewitching waltz. Then the music legend who took part in recordings complements the vocal part with notes of his voice. Under The Graveyard continues a leisurely mid-tempo narration, enveloping the vocal phrases of the verse with romantic covers and entwining with a round dance of disturbing musical passages in the chorus.
Bringing shades of country music to the introduction, swirling with whirlwinds of winds from the desert prairies, Eat Me then complements the album with shades of southern rock, pulsing rhythmically and lifting vocal phrases to the crest of a wave of musical narration. A soft guitar introduction envelops vocal phrases with the intriguing mystery of twilight mystery, but then Today Is The End retains a seductive romance, slightly accelerating the pace of the music in the chorus, but returning to an intriguing mystery entry into the instrumental bridge and the next verse.
Artistic romanticism weaves a sparkling lace of dreamy omens, vocal phrases of the Scary Little Green Men track intrigue by so seductive expectations, then escalating the waves of prophecy and inspiration, bringing a denser sound into a musical image. Holy For Tonight continues the album with bewitching romanticism, captivating with the sound of such a soft and sensual ballads.
The unexpected names of invited musicians create an intriguing atmosphere in the album finale - first in a freedom-loving stream freestyle rock'n'roll of the It's A Raid (Feat. Post Malone) song invited artist complements the vocal part with shades of his voice, then in a thoughtful ballad Take What You Want (Feat. Post Malone & Travi$ Scott) vocalists alternate vocal parts, introducing popular music influxes of music.