July 25, 2018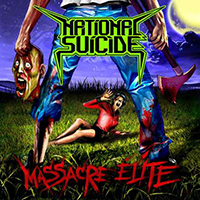 The howl of the terrible monster is preceding the unrestrained drive of Death Roll intro, then the vocals in their playful demonic tone complement the enchanting horror of the first composition of the National Suicide - Massacre Elite album.
The pressure of the I'm Not A Zombie (Anymore) main motive does not recede before any obstacles - rolling waves of rebellious verses, after a bright melodic guitar passage in the bridges in the choruses the name of the track is uncontrollably asserted.
The title track of the album features a dark twilight of doubts, in which the vocals conduct possible ways of liberation, but in the chorus the brothers'in'arms gathers in Massacre Elite and strike back the surrounding darkness.
The solo bass of the guitar sets the rhythm to the Old, White An' Italian introduction, then the vocal stubbornly and aggressively enthrall the instrumental parts to follow. In bridges, the guitar exhibits the balancing acts of melodic solos. The furious wave of drive carries away into a tough musical canvas, then vocals are emotionally torning from side to side - but the bridge in front of the Pisshead chorus is stating a rapid path for the further development of the musical image.
In a playful dance, making its way, music rushes from side to side, lifting melodism in the bridge before the Trouble Ahead chorus to an unknown level, enveloping the vocal chorus part with a whirlwind of bright guitar passages.
Opened bottle, greedy swallow - then mid-tempo composition stubbornly and confidently brings Take Me To The Dive Bar request to all around, completing the bridge phrases with a memorable guitar solo.
The enthusiastic valiant motive of the entry meets the rapid drive of the couplet with a bright salute, then the vocalist again and again expresses doubts in the future Unfit For The Army prospects.
Realizing the lively and exciting sound of the entire album What D'You Mean By Metal completes it successfully and effectively, combining the harsh emotionality of vocal phrases and a rebellious drive with a melodic hue of instrumental accompaniment.