August 01, 2021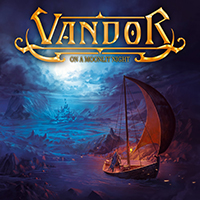 The ...Darkness Looms soft acoustic guitar chime opens the ways of development of musical variations of the Vandor (SWE) - On a Moonlit Night album, continuing to the melodic guitar solo of the Mountains of Avagale composition, with the entry of the vocal of the spurs and brightly marking the bright musical path. The River of Life song begins with artistic guitar passages receding to inspired vocal heft, but returning again in the bright musical artistry of instrumental fragments, In which keyboards are also bright.
The keyboard symphony goes to the front of the Endless Sea intro, then starting with the charming sound of romantic ballads, sometimes holding back the rise of the music tempo. The Future to Behold composition develops the theme of the romantic atmosphere with soft and tender ballads tenderness. The Fate of Eltoria song slightly accelerates the pace, putting forward a vocal party to the forefront of the musical image, complementing the main vocal of the variable patting.
The narrative of the storyter begins the musical narration of the long and diverse saga The Sword to End All Wars, which speaks as if by a separate musical creation in the musical canvas of the album. The On a Moonlit Night bard song in the evening fire enchants a soft and tender chime of strings of an acoustic guitar in unity with charm of the vocal part. The Enter Twilight (Bonus Track) completes the album by the rapid swirl musical drive, topped with vocal inspiration and artistry keyboard symphony.