August 15, 2018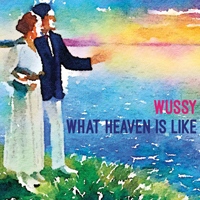 Unclear One Per Customer guesses and the anticipation of the development of further musical hypostases begins the Wussy - What Heaven Is Like album with a mysterious sound.
On the foreground of the musical image comes the female vocals, the male only on a distant background in the accentuated sections complements it with his own way. It should be noted that Cake therefore sounds more emotional and sensual.
Female vocals in the Gloria song sound even more sensual and emotional, but the music envelops him with romantic experiences.
Thrusting female vocals in the Tall Weeds intro, male vocals brings elements of a country-style, but the female vocals complements its own phrases.
In a pensive symphonic Firefly ballad, female vocals are initially content with acoustic accompaniment, enveloped in covers of orchestral parts of violin and cello.
Disturbing playfulness is intertwined in the Aliens In Our Midst vocals conjectures of the male vocals, female vocal is manifested only by the trends of mythical hypostases as a mysterious whisper.
Playfulness and mysteriousness are intertwined in the Skip composition, female vocals hides on the background of musical rehearsals, remaining an incredibly mysterious element of the musical essence.
A thoughtful ballad is hovering with musical passages around the vocal part, raising chorus Oblivian to the dominant and dominant position in the musical canvas.
Country-style was already - because male vocal intertwines this style with medieval bardic legends. Everyone will take it in their own way - but I really liked the Nope song!
Returning to the sources of musical inspiration, Black Hole completes the album thoughtfully and sensitively, completing the vocal reflections with orchestral passages and emotional violin trends.