December 15, 2021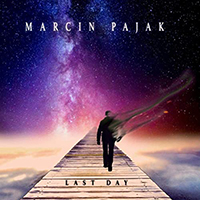 The experience of the musical uncertainty of the This World composition opens the musical gates of the album with the unity of musical and vocal doubts, continuing in the sensual and emotional Marcin Pajak - Last Day title track's dilogy of Last Day, Pt. 1 and Last Day, Pt. 2, which reveal different sides of the human essence and enchant with progressive artistry of musical variations.
Rolling with the sad experiences of the musical canvas, the Hope song rolls it out for a procession of vocal experiences. A playful introduction gives a bit of hope, then combines with the vocal experience in the sound of the These Moments composition.
Sad memories and sad hints combine in the sound of the Nothing Is Real sad ballad. The Release Me From My Fear atmospheric ballad of musical variations with symphonic artistry creates a mesmerizing atmosphere that takes you to the limits of forgotten dreams and enchants with the mesmerizing sound of musical variations and vocal reflections, entering in the final fragment that anticipates the sound of the Lost In Time composition, in which the guitar solo and keyboard variations are combined and compete in the sound.
Assertively, insistently and comprehensively combining the music of the main motif, the Sometimes song combines musical and vocal artistry in a single musical flow, foreshadowing the Talking With Spirits final composition, in which jazz and saxophone expand the stylistic framework of the album.