January 16, 2019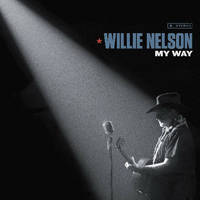 The charming atmosphere of the lounge envelops the pacifying musical haze, embodying the mood of the Willie Nelson - My Way album's in the first composition Fly Me To The Moon, complementing the basic guitar motif with shades of orchestral wind instruments. Summer Wind continues this enchanting atmosphere, bringing the vocal part to the forefront of the musical image.
A playful keyboard passage ends with a harmonica break, then the vocals take the lead role of One For My Baby (And One More For The Road) song with the support of a poetic symphonic musical background.
A cheerful musical dance encompasses the sophisticated calm A Foggy Day vocal phrases with intriguing notes of lightly merry and inspiring joy.
Perhaps the most successful song of the album It Was A Very Good Year begins with memories of the mistakes of youth, enveloping the reflective soft background of vocal reflections. But in the instrumental bridges, majestic symphonic musical trends are manifested, all increasing their influence along the composition and in the instrumental and final parts creating a delightful musical image.
Dixieland memories are embodied in the soft and pacifying lounge of Blue Moon composition, distracting from any troubles and disasters. I'll Be Around continues this pacified atmosphere, further softening the atmosphere and enveloping thoughts with a gentle sound.
Pulsating musical waves raise vocal doubts and experiences to the forefront of the Night And Day sound, giving them a fascinating and inspired background music sparkling with solo bass, keyboard and wind instruments.
Alternating the chants of the male and female vocal parts in verses, What Is This Thing Called Love is woven by their duet in the chorus, concluding with his brooding acoustic guitar solos.
The soft musical passages of the Young At Heart song indicates that there are non-aging phenomena, claiming this by a gentle musical romance. The title track My Way completes the album with inspirational reflections that embody the life story in a fascinating musical artwork.