June 06, 2020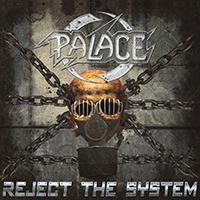 Forcing a whirlwind of drive Force of Steel enslaves vocal experiences in a rush of musical rage, weaving them together in a harsh stream of musical fury. The whirlwind of guSoulseeker itar solos continues the Palace (DEU) - Reject the System album, braiding vocal emotions through a spiral tunnel built from harsh riffs.
Pulling the sparkling coils of a guitar solo, Final Call of Destruction fascinates with musical artistry, then a cry of vocal rage unites these elements of the musical essence together. Pumping up the rhythmic musical drive The Faker again again emphasizes the song's name of in the chorus. Walking in the inspired atmosphere of a combat march, the Hail to the Metal Lord vocalist leads his associates in a single impulse of desire for exploits in a single unit.
A guitar solo weaves a mesmerizing lace of intrigue, then pulsating with the Bloodstained World march procession on the verge between a mid-tempo battle march and a fast-moving musical thriller. Fascinating with the guitar solo of intro, Valhalla Land then confidently walks along the path laid out by rolling out the musical canvas of the main motive. Stubbornly and relentlessly walking along the chosen musical path Legion of Resistance intrigues with the sound and vocal narration of the verse, severely and significantly emphasizing the name in the chorus.
Recognition of the demon in its essence opens the gates for a fierce musical action film, interweaving vocal rage and musical severity in a single stream of the Wings of Storm compositional fury. No One Break My Will completes the album with a confident procession of a harsh musical mid-tempo march.