January 30, 2021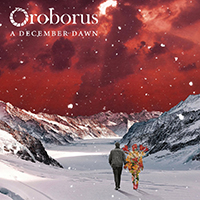 The music and vocals of the Morphine Queen song kicks off the Oroborus (GBR) - A December Dawn album with a whirlwind of rebellious doubt, then focusing melodic charm in the guitar solo of the instrumental part and varying the tonality of the vocal appeal. Combat inspiration from the Celtic folklore of the Fortress Of The Brave epic knight saga is combined with vocal meditation.
The Wings Of Wax vocals doubts are intertwined in dance with musical variations. Acoustic busting of the guitar strings, tune the December Dawn acoustic baladi, give additional sounds with vocal thoughts.
Thoughtful musical passages with echoes of legendary musical notes intertwine in a mesmerizing waltz with the Lakeside Ghosts vocals reflections and a guitar solo. The Mines! vocal part comes to the fore of the musical image, sometimes exploding into a whirlwind of furious drive.
Reflections in pensive riddles set the musical direction of the development of the Proto Human main motive, which develops in a bewitching unity of drive, symphony and The Rhythm Of Everyday vocals foreboding.