May 17, 2017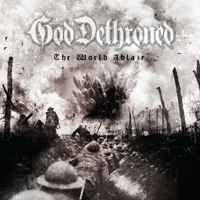 The world for everyone opens only one side of its essence, for some it always God Dethroned - The World Ablaze !
So beautiful, exciting melody envelops the twilight of distorted phrases, creating A Call to Arms album intro.
Furious drive of Annihilation Crusade somehow modifies the melody of the introduction, thickening and strengthening its sound. Besides, after violent and angry breaks, a beautiful, sublime melody carries into the expanses of dreams, dreamy impulses and imagined goodness. But the rage and drive return to complete the composition. he long, stubborn and rash intro of the title track The World AblazeT reveals the world from the harsh, cruel side - demanding selfless determination and confidence in principles. In the instrumental part, the guitar solo raises into the clouds above the sky, allowing one to look at the wars and conflicts from above. Viscous deep march and stubborn instructive monologue complete the composition.
Whirlwinds of hard and harsh guitar riffs are circling in On the Wrong Side of the Wire deadly dance, calling their drive to bellicose moods. After the swift vortexes of the verse, music should pacify in the calm phrases of the chorus, creating the respite before the next rush of impetuous dance.
Swift, broken musical moves so Close to Victory creates flashes of unexpected vocal frills, circling in a whirlwind of guitar riffs strung on the axis of the main motive. In the instrumental part, the guitar solo again rises above the clouds, anticipating by its flight among the sun rays the dark gloom of the dark end.
Soft, calm and charming guitar instrumental composition Konigsberg adorns with its ballad tone surrounding everyday troubles, preparing for a violent, unyielding drive of Escape Across the Ice (The White Army), visco and stubbornly marching under a storm of shrill freezing snowstorms, preferring richness and power of agility and speed, clearly and rhythmically treading on its way. Guitar solo brings glimpses of charming melodies into the dazzling twilight of sparkling snowy peaks.
The soft, restrained guitar dance of the introduction envelops the atmosphere of the intriguing dusk, joining vocals carries Breathing Through Blood into a fast, unrestrained flight, supplemented by mysterious guitar delights and vocal throwing from side to side of the main motive.
A clear, confident, rhythmic march Messina Ridge displays its sound along the chosen path, insistently and stubbornly marching along it, imprinting its musical moves with chopping steps.
Mysterious and enigmatic beginning, The 11th Hour completes the album in the fog of gloomy romance, creating an atmosphere of so powerful and meaningful ballad.