January 12, 2019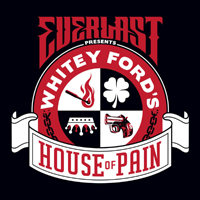 The pacifying atmosphere of the One Of Us Amerikan romance begins with calm lyrics, captivating you with its romantic country style at the beginning of the Everlast - Whitey Ford's House Of Pain album. The Culling continues album with alarmed forebodings, enveloping the recitative of the vocal with a gloomy haze of alarmed musical forebodings.
Romantic reflections of a soft and tender It Ain't Easy ballad envelops with the atmosphere of pacified thoughtfulness, smoothing out harsh experiences from the experienced hardships.
The creaking of the opening door, the mysterious anticipations and the mystical fringing of the sparkling The Climb (Interlude) sound anticipate the further development of The Climb composition, creating the atmosphere of the traditional sound of this performer, which will appeal to fans and many other listeners.
The rhythm'n'blues, blues motifs and the rap hues, introduced by the vocal part, are combined into the sound of the Slow Your Roll (Feat. Aloe Blacc) composition, fusing several musical styles in a single artwork unite.
Piercing the traditional American rock with the impulses of modern trends, Smokin & Drinkin seems as if it has thrown ages into oblivion, modernizing such a traditional sound.
Romantic Oooohh (I Don't Need You) [Feat. Slug] story brings the vocal recitative to the forefront, highlighting the guest member, creating an intriguing background with unclear chants.
Mysterious echoes of natural grace Summer Rain (Interlude) is anticipating an acoustic Summer Rain ballad, revealing the embrace of musical inspiration and enveloping charming vocal phrases with a spellbinding musical symphony.
Returning to the interweaving of traditional American musical stylistics, complementing it with glimpses of more youth and modern musical styles, Don't Complain interweaves such contrasts of stylistics together. Break It Down continues this combination, bringing to the fore the traditional and eternal musical values. Break It Down (Interlude) completes the composition with inspired chants.
Mysterious twilight envelops Heartbeat vocal phrases full of thoughts and doubts of obscure romance, bringing the vocal recitative, intertwined with keyboard improvisations to the forefront of the final album's Dream State final composition.