February 11, 2018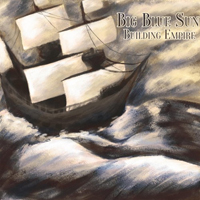 Unhurried meditations Open Roads begin the album with quiet tricks, sorting through the possibilities in the verse and sweeping the musical and vocal chewing in the choruses, the guitar passages become stern and deeper, again returning to the support of the lofty keyboard passages in the next verse. Title track continues Big Blue Sun - Building Empire album, guitar riffs get tougher and sharper, keyboard parts crown them with some epic shade of symphony. In the instrumental part, the guitar solo gives a certain mythical tinge, as if the magic of unexplored limits influences the order of creation of the empire.
The gloomy atmosphere creates cautious expectations, imaginary ghosts and imaginary horror peep out of dusk. But the refrain puts the accents in these imaginary illusions, clarifying that all this always hides Behind The Mask.
Thanks in Japanese Arigato is embodied in a thoughtful melodic atmospheric saga, exciting thoughts to its limits, as if strolling in meditation on the garden of stones.
The keyboards come to the fore in the instrumental fractures of the atmospheric ballad Old Town, retreating to the background, making musical room for the vocals reminiscent of the young days and native lands. Hard blues Holding On performs guitar solo in intro, that makes a part of the main motive that sounds further, acquiring more and more new musical tones. Then the vocals are waving a marvelous picture from the vocal duo, which envelops the lace of guitar and keyboard musical delights.
Continuing the blues tendencies 5:19 blows into the fog of the sophisticated romance of the acoustic ballad, at the end, sweeping the vortex of emotiona with guitar passages. Starting with guitar musical solutions, Away We Go envelops vocal phrases with lace key patterns, creating from the pensive bass guitars fractures a strong and sonorous background. This wave of romantic experiences completes the album.