June 04, 2016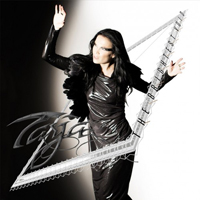 Tarja - The Brightest Void started by hard guitars riff in vocals anticipation, imposing gloomy mood, but vocal lady comes to us to prove and indicate - No Bitter End. With her arrival song acquires major hue and improves vision of the world.
Your Heaven and Your Hell (with Michael Monroe) alive and actively starts, then women's libretto turns into keyboard break, the phrase male vocals that's just he takes the next verse. The bridge male and female vocals combine their efforts, verse again only men perform - chorus crowned vocal changes with its sounds.
Keyboards precede Eagle Eye (with Chad Smith) next instrumental intro ended by lady's monologue. Then the female vocal support all the instruments, next monologue verse again. Then the male vocals adds its colors in the palette of sound, enriching and complementing it.
An Empty Dream long, uninterrupted lyrical monologue of lady's vocals, accompanied only by quietly calm support. Female vocals shimmering colors, changing the shape and contours of its canvas.
Witch Hunt mysterious, brooding and misty accompaniment frames gloomy thoughts of fairy Lady. After the lady retires in sadness and solitude, symphonic keyboard passages surrounds us with gloomy tales and dismal dreams. What quickly finished by waking up lady Youth and modern - of course, they're Shameless! In the first verse male vocals complements female, just hiding behind the curtain and acts as the background. Then lady comes to the fore proudly and lonely, then background returns for next verse.
House of Wax keeps the images of forgotten by all and those of whom will always be remembered - that's the cover on Paul McCartney's song. Grim narrative female monologue, accented with the drumbeats and misty keyboard passages.
Wildly famous, mystical surrounding mysterious memories Goldfinger - that's the cover song of the hit performed by Shirley Bassey, recorded a lot of years ago as James Bond Main Theme. So listen to it now to assess the another performance of it. Sorry, I'm not Bond, not James and not Bond.
Paradise (What About Us) (new mix - Within Temptation with Tarja) show us how can be combined female voices in one composition and how they can overwhelm all obstacles in their path in a single burst.