May 08, 2018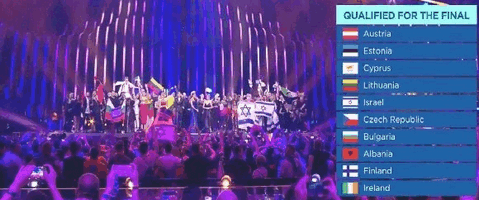 The participant from Portugal won last year, choosing his native country the venue. The contest consists of two semi-finals and a grand final.
On Tuesday, May 8, the first semi-final of Eurovision-2018 starts the contest and determined the first participants of the final. Participants from 19 countries presented their compositions:
Azerbaijan, Iceland, Albania, Belgium, Czech Republic, Lithuania, Israel, Belarus, Estonia, Bulgaria, Macedonia, Croatia, Austria, Greece, Finland, Armenia, Switzerland, Ireland, Cyprus.
Only 10 of them were eligible for the final of the Eurovision Song Contest-2018:
Albania: Eugent Bushpepa – «Mall»
Czech Republic: Mikolas Josef – «Lie To Me»
Lithuania: Ieva Zasimauskaitė – «When We're Old»
Israel: Netta – «Tоу»
Estonia: Elina Nechayeva – «La Forza»
Bulgaria: EQUINOX – «Bones»
Austria: Cesár Sampson – «Nobody But You»
Finland: Saara Aalto – «Monsters»
Ireland: Ryan O'Shaughnessy – «Together»
Cyprus: Eleni Foureira – «Fuego»