May 15, 2022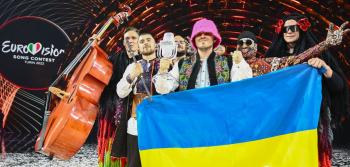 On May 14, 2022, representatives of different countries, nations and musical styles came together in Turin in competition for a crystal microphone - a prize for the winner of Eurovision.
Passions boiled seriously - and this resulted in the intensity of passions.
Emotional performances of Azerbaijan, Armenia melted hearts, the representative of Spain inflamed the whirlwind of passions of fans of hot female beauty.
Australia and the Netherlands have called for attention to be inward, to explore their essence, and to discover the mysteries of their inner world. The United Kingdom surprised with a stylistic transformation of its representative, from whom many expected something completely different. Finland and Moldova, The Rasmus and Zdob şi Zdub, in fact, embodied the expected sound - for which they received a standing ovation from the entire audience and viewers. Representatives of Ukraine, Kalush Orchestra, dedicated the song to the mother of their leader.
After the meetings of the countries participating in it, its boards made decisions, which were introduced to the public - the United Kingdom broke ahead, followed by Sweden, Spain and others. However, after the announcement of the results of the jury - the audience had time to express their thoughts, which not something that made adjustments - turned upside down! In view of the warm support of the audience, the victory was won by... representative of Ukraine, Kalush Orchestra!
Glory to Ukraine!
Glory to the heroes!