September 12, 2021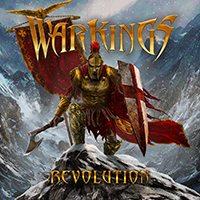 The whirlwind of a guitar driver wraps the We Are the Fire vocals part, including the rapid waves of the musical power of the WarKings - Revolution album. The charming chime guitar strings opens the composition's intro, again and reappropriate and focusing its name in the Sparta, Pt. II chorus.
The vocals appeals to martial mood, courage and determination to any combat or battle, combined with music in the Fightbattle march. The mystical and mysterious atmosphere is enhanced by the gothic influence of the Spartacus (feat. The Lost Lord) invited vocalist.
The sound and musical composition displays the vocal batch on the foreground of the Kill for the King musical image. The Deus Lo Vult song rolls a bright and impressive musical canvas of a solemn anthem, the Ave Roma continues the effect of Roman antique history on the development of military honor and legendary heroism.
Turning into another era and part of the world, the Ragnar composition begins with female vocals with a marine surf noise. Then in the song is dominated by the men of the male vocals. The By the Blade epic saga carries a hitted motif, anticipating the Where Dreams Die majestic musical fairy tale, completing the album.