August 20, 2021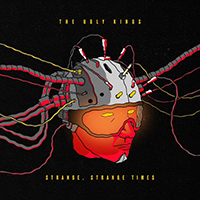 The title composition begins the The Ugly Kings - Strange, Strange Times album by an explosion of a musical drive, then fascinating the hits of the main motive and enchanting the unity of music and vocals in the medium-duty rhythmic march. The Technodrone song brings the vocal emotionality to the forefront of the musical image, emphasizing and intonating vocal phrases with musical passages. A very peculiar composition, which builds its musical essence into contacting the unknown lady, which Do You Feel Like You're Paranoid? question is asked again and again.
The mid-tempo heartbeat of the In the Shadows intro rolls the music canvas of the main motive, by which the vocal party then marchs. Guitar solo indicates readiness for testing, then combined into the sound of the Last Man Left Alive composition with vocal reflections. The Lawman song enchant with a sorts of southern rock and spicy trends of hot wild west prairies in the acoustic union of music and vocals.
Rolling with tight waves of the medium-dimension march, the Electric Lady (My Kryptonite) fairy tale crosses these rhythmic waves by vocal inspiration that sealing sound in the solar chorus. The Devil Comes with a Smile composition returns again to the expanses of spicy Western shootout, preparing the development of a musical entity in the sale and having his banners in the chorus. The vocal story goes to the forefront of the musical image of the Mr. Hyde song, then the Another Fucking Day ballad completes the album to mystical inspiration.