March 19, 2019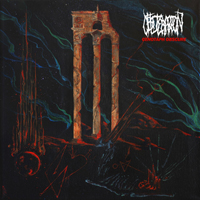 Title track starts Obliteration - Cenotaph Obscure album with pulsating musical mystery. Before the vocal enters, the music is carried away in a stream of rapid drive, compacting the sound with bursts of emotion in vocal phrases.
Rolling in the dusky wave of mid-tempo march Tumulus of Ancient Bones entangles vocal revelations with intricate vague musical guesses. Then, swift musical passages argue with pensive vocal reflections, but pensive musical passages also concentrate in the instrumental part.
Thoughtful instrumental passages of the Orb are enveloped in a mysterious mystery, anticipating development of the musical picture in the following composition Eldritch Summoning, in which the musical sacrament is complemented by vocal revelations and in the instrumental bridges the song is pierced by impetuous passages.
Enveloping the gloomy canopy of the epic sacrament with a musical image of the intro Detestation Rite then rolls the main motive with a mid-tempo march, but restrains its desire for a furious drive.
Exploding with a rapid wave of furious drive Onto Damnation then slows down the narration, rolling up the gloomy thoughts of the bridge and chorus. But the impetuous drive returns again to the instrumental part, sweeping as it furiously marches to the completion of the composition.
Completing the album Charnel Plains composition combines musical power with epic melody, enveloping the atmosphere of ancient tales and legends.