July 03, 2018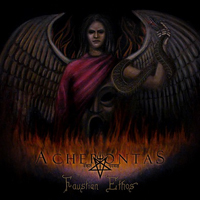 First, bursting into a furious and impetuous drive, The Fall of the First Pillar calls out to unknown forces, invoking the ghostly charms of uncharted spirits. But the grand melody of the main motive is connecting with the vocals, raising a bewitching melody to the top of the first Acherontas - Faustian Ethos album composition.
Melodious vortexes of the main motive are carried away in a rapid stream, retaining a dominant role in the Sorcery and the Apeiron musical image, the vocals complement with their phrases against the background, interwoven with musical passages in a spectacular dance
Twisted in the enchanting haze of mesmerizing melodies, Aeonic Alchemy combines the mysterious romance of a brooding ballad with pulsating waves of drive, without going beyond the average tempo. Continuing the trend of the previous composition, title track Faustian Ethos twitches into the twilight limits, epicizing expectations with waves of a ballad, but the rhythm tightens the sound, setting a more dense and concentrated background. The majestic motive envelops the fairytale vortex of the melodic The Old Tree and the Wise Man intro, then the unrestrained flow of drive calls for vocal reflections, which is riding on musical passages like a dragon rider.
The gloomy reflections of the dark magician The Alchemists of the Radiant Sepulchre hiding from indignant peasants in the alchemical laboratory are covered with a majestic fairy tale, combining scientific experiments and mystical signs in one musical stream unite.
Rolling out the enchanting epic canvas of a romantic ballad Decline of the West (O Iereas Kai O Tafos) changes the vocal stylistics, using the bewitching legends of pure vocals, occasionally supplementing wise verse phrases with background tunes.
But in the instrumental part, the wave of the drive completes the composition, setting the style of the last album's composition Vita Nuova, combining violent couplets with melodic bridges, successfully summing up a very successful album.