February 07, 2023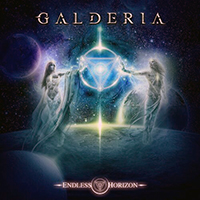 The intriguing introduction of the Answer The Call composition combines musical charm and vocal charisma in a single exciting flight, piercing the perception of the beginning of the Galderia - Endless Horizon album, which continues the swift race of the musical drive of the Striking The Earth song, crowning its swiftness with vocals phrases. The vocals story begins with its story on the Elation musical artwork, combining the vocals lyrics with symphonic musical charm.
The chime of guitar passages is combined with a vocal narrative in the Eternal Paradise bard of the ballad, gradually complementing its sound all with new shades and stylistic influences, fascinating the vocal charm into the artistic vortex of musical variations of the Gonna Change It All composition and bringing the vocal story to the forefront of the exciting and impressive procession of the Come With Me Now musical fairy tale.
The sparkling keyboards begin the Burning Higher composition with the charm of the echoes of cosmic currents, weaving music and vocals in a single musical stream, anticipating the solemn procession of the title composition of the Endless Horizon album, after preparing vocals phrases on the crest of musical waves, inspiring the unity of the melodics, the drive and charm of the Heart Of Mankind song and the Twenty One soft, delicate ballad, finishing the album with a peaceful charm.