October 18, 2020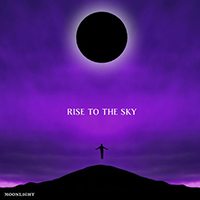 The soft ringing of guitar strings takes you on a journey through the expanses of dreams, creating an enveloping atmosphere of musical mystery and then captivating with the rhythmic procession of the Levitating Towards The Sky march, wrapping it up with the romantic guitar appeals of the spirits of ancient knights. The Sun Setting Down continues the narration of the Moonlight - Rise to the Sky music release with gentle guitar appeals, marching along a leisurely procession of a romantic ballad dominated by a guitar solo, sometimes hardening to a significant drive.
The Dark Sky opens the heavenly narration with gentle notes of acoustic guitar, setting the dreamy solo of the brooding narration of a bard tired of travel and wandering. But then the music hardens and condenses and passes into the next phase of the heavenly fairy tale, more densely and rigidly rolling out the Ancient Skyes epic canvas of heavenly perception, at first rolling in a mid-tempo march with the dominant acoustic guitar, but then condensing and hardening the narration with increasing tempo. Starting with the sublime melodism of a minstrel ballad, the Moon Rising then develops everything and develops the anticipation of a rapid drive in the continuation of the Moonlight heavenly sonata.
Inspirational charm of soft romance and natural tenderness completes the anxieties of previous compositions and complements them with clean vocals, combining the Purple Sky Rising dreamy guitar passages with vocal tenderness. The pacification and serenity of the After The Storm guitar solo brings a sense of the previous experiences, ending the album with meaningful and thoughtful guitar solos.