January 11, 2020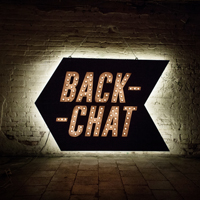 Intriguing intro's guitar passages escalate impatient anticipation, even evolving into an impressive sound of the An Everlasting Storm main motive that supports the emotional inspiration of the vocal part. The self-titled Backchat - Backchat album continues, beginning Blanks with a dancing rhythm, which is also characteristic of the next composition The Leading Star, jumping up in an alarming dance, interlacing the emotional vocals with a whirlwind of musical dance riffs. But then the vocal part has a significant impact on the compositional structure, introducing artistic variation into musical images.
Continuing interesting musical variations From Ashes They Rise progressively introduces impressive elements of technical musical style into the musical essence. Forcing the whirlwinds of power and drive Asked for More uncontrollably carries you into the stream of the main motive, then transforming into a stern and powerful march, forcing a viscous insurmountable severity.
A soft and thoughtful ballad The Night with No End leisurely escalates an atmosphere of reflection and doubt, accumulating strength before the next powerful stream of drive The Games We Play, which maintains a restrained tempo, sometimes returning to a medium-tempo musical narration. Combining traditional thrash metal musical motifs with the severe hardening of vocals Sea of Filth creates a very peculiar impression. Glow flies away in a whirlwind of rampant drive after variations of mid-tempo musical compositions. However, in instrumental bridges and chorus, mid-tempo meditations come back again. But the War and Plague musical fury calls for a swift drive, however, introducing some shades of playfulness in sparkling guitar riffs. Concluding the album with some trends of epic reflections, May the Road Rise to Meet You expands the stylistic framework of the group's work, giving an ingenious Irish blessing.