April 04, 2023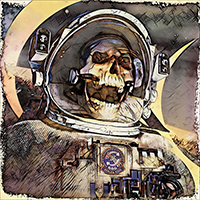 The mysterious introduction ends with a confident procession of musical passages, again returning to the twilight haze that envelops the vocal part of the Everything Rots verse, lifting it up together with the music in the chorus, continuing the Replica Jesus - Echoes From The Expanse album with the sound of the Professional Liar song, embedding the compositional structure on the basis of the vocal part.
Guitar riffs pave the way for the musical path of the Headshot main motif, rolling out the musical canvas before the vocal procession, continuing with a more persistent Fresh Flesh march with twilight rebellion in shades of musical sound and doubts of vocals guesses.
The assertive intro completes the mood of the vocal phrases, then transforming the sound of the Come Back Better song in accordance with vocals aspirations, continuing the pensive mood in the sound of the Switchblade Eyes composition, giving vocal reflections shades of intriguing mystery.
The pressure of the guitar solo ends with the Resolution mid-tempo march, varying the tempo and sound, continuing with the unhurried procession of the Lost Transmission composition, foreshadowing the end of the album with the twilight solemnity of the Second Hand Crucifix mysterious musical story.