December 03, 2018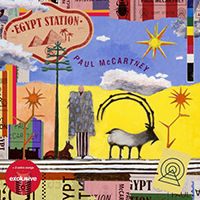 Distant noise, crowds of hurrying people anticipate the Opening Station track, anticipating the beginning of the Paul McCartney - Egypt Station album, brooding pacified I Don't Know ballad, throwing covers of repentance and myad reflection, dissipating concerns and anxiety. In the chorus, the song covers a positive attitude, inspiring further action, complementing the vocals of Sir Paul with the vocals of the female vocals. The playful drive waves soar from side to side, anticipating the upcoming transformations Come On To Me inspires changes.
Returning to the ballads Happy With You brings notes of country style to the album. Vocal reflections complement acoustic guitar passages.
Expanding the stylistic framework of album, Who Cares complements its playful vocal phrases with choruses and fanned with artistic keyboard additions of pulsating music, driven by a bass guitar. But broadening the scope of stylistics is an endless field of activity: Fuh You brings funk and reggae to the album's trend.
Returning again to the trends of country, Confidante develops the tale of a wise rbard who sings a song about his travels and adventures, elevating this narrative into the discharge of a hymn, summing up the fragments with a guitar passage.
Spiritual People Want Peace anthem dissipates outrage and creates an atmosphere of an undeniable world and enchanting in peaceful coexistence any conflicts and indignations.
But the saddened Hand In Hand ballad completes the whole celebration with a hint of sadness, building up a fascinating lace of brooding romance. In the instrumental inserts, the flute elevates the artistry of the composition to the transcendental heights of epic narration. Continuing the trends of Latin American romanticism brightens the Dominoescomposition with elements of this stylistics. Remaining in part in the same realm, Back In Brazil wanders from side to side in a bewitching union of reggae and British country ballads.
The inspired narration of the vocal part carries the inspired art rock song Do It Now into the open spaces, wrapping vocals reflections with its epic symphony.
The rhythmically pulsating composition Caesar Rock gives to the sound some elements of a circus march, shrouded in a mysterious haze of intriguing anticipations from which the rebellious vocal part comes.
Like the teachings of the wise elders, Despite Repeated Warnings is filled with a spiritual symphony, dispelling haste and haste, gathering thoughts and omens together and giving wisdom to awareness.
As at the very beginning of the album, the Station II noise is fanned by a charming tune, anticipating the final composition of album Hunt You Down/Naked/C-Link, inspired and merrily by a wave of youth drive.