May 28, 2018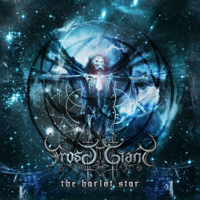 Unclear dreams are woven into symphonic reflections with a flicker of vague winds, frozen in the frosty air with ghostly laces. Then the title track of the Frost Giant - The Harlot Star album compacts the sounds, giving it a wave of drive, imperceptibly turning into the introduction of the next song, in which vocal phrases combines lots of feminine gentle phrases and male deep clean vocal chants that states the song's name Forgive Me Not. In the verses there is an energetic growling wrapped in the waves of drive, choruses come back from the introduction in the choruses, melodic tunes fascinate the mind in the instrumental part, anticipating the epic tunes of pure vocal and the waves of the majestic march that complete the composition.
Acoustic guitar fingering searches in a thoughtful dance, winking pensive laces of obscure doubts of a mysterious Apostasis instrumental composition, at the end of which symphonic shades are so inconspicuously hides on the background. Curse Of Doubt majestically and diversely steps with a solemn march, rolling up bright musical waves, entangling vocal phrases by charming musical guards. Then the music turns into a pensive ballad, erecting sparkling halls of exciting tunes.
The elders and sages gather in wise reflections, chanting their An Exile In Storm misfortunes with chorals, anticipating the dancing Prisoner Of The Past introduction, developing a stream of dark drive, but again and again returning to joyous unrestrained fun.
Removing joyful merrymaking and thoughtless fun instrumental reverie Ashes Among The Earth creates an oasis of calm and reflection, pacifying any nervousness. Again and again transforming the musical image with new and new additions, moving from the clean vocals chants to the rage of the growling The Forgotten Graves creates as a separate work in this album, self-sufficient in its diversity, embodying all the features of the album.
The Of Clarity And Regret introduction by the wave of drive anticipates the stern power and incredible weight, but the vocals carry the sound in completely different planes, referring to the beginning of the composition to a completely different genre, but then the vocals introduce notes of growling, first fierce, then departing from the playful clean vocals tunes.
The epic melody marches majestically, unhurriedly sparkling with its sound like a precious crown, the radiance of which is inaccessible to mere mortals. But then, before the introduction of the vocals, rapid instrumental passages determine the frenzy of Monuments To Nothing sound, carrying so many vocal delights on the wings of melodic passages.
The muffled chants of the invisible fairies are combined with sad and pensive musical passages in the album's outro Perpetuum Et Aeterrnum, woven a sad saga from guitars, violins and keyboards passages.