July 12, 2019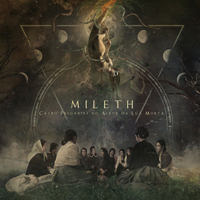 The charming chime of the violin passages begins the Mileth - Catro Pregarias No Albor Da Lua Morta album, continuing with fascinating chorals in the background, then after the severe growling rattle, the charming voice of the singing lady comes to the forefront of the O Son Do Buxo Baixo A Sombra Do Xistral musical image.
Unrestrained fury drives the screaming to De Bruma E Salitre dominant role, but the violin passages envelop the vocal fury, complementing the demonic screaming with the playful melodies of the female vocal and the harsh background of growling. Then the female vocals crowned the composition with the covers of her charm.
The evening forest, the cooing of an owl and the mysterious orchestral melodies Do Morto E Espiral Silencio (Interludio A Brixida) envelops in a whirlwind of fascinating ritual, intriguing with the following composition. The cry of a summoned witch begins Esperta, Letarxica E Erma Fraga! musical saga, wrapping up with fierce phrases of demonic screaming and then weaving a fascinating lace of vocal and instrumental variations that are so varied, but successfully combined.
The aspiring festival of folk dances ends with an epic ballad that heralds the combination of so different musical trends in a single musical image instrumental composition.
Intertwined in the fascinating alternation of the melodies of the female vocals, fierce screaming and fascinating folklore trends in the enchanting sacrament of the of the Ela, Que Camina Sobre As Raices Do Frio Inferno composition.
The furious drive is followed by the emotional tunes of the female vocals with the muted growling in the background, then the unrestrained screaming is intertwined in the Petros, Axioma Da Terra dance with musical accompaniment. The noise of the surf and the orchestra of folk instruments slowly weave the lace of the Da Mitoloxica Errante: Ith intro, captivating with the atmosphere of intriguing anticipation. Then the vocals come in with the tunes of the female vocals, then alternating them with the restrained screaming fury.
The fascinating sacrament of the No Albor Da Lua rite, which is carried out by the adepts around the fire, is an intriguing introduction to the final composition of the album Cuarta Pregaria Na Lua Morta (Version Acustica), completing the musical artwork with title track's romantic ballad in which, however, the background screeching of screaming appears.