March 07, 2019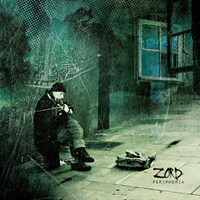 Solemnly and fascinatingly entering Wry song with connecting vocals forces a wave of gloomy drive, inspiring vocal phrases asking the rebellious sound of the Zord - Peripheria album.
The cries of seagulls and the howling of distant winds starts the title track Peripheria with vocals's intro it forcing the significance and as if continuing the previous track, keeping the overall style of the album.
Twisted in a mysterious haze of invisible aspirations of the entry, the verse takes away Blue Hatred Cacophony at first in a swift drive, but transforms with reflections of the instrumental bridge so that it can return to rampant swiftness.
Wandering from side to side in the obscure twilight of the intro, the vocals sets a clear direction in the Villainy verse, returning to the magnificent thoughtfulness in the chorus.
Viscous musical influences of the Parasite Hatchery intro introduces a shade of mystery, but vocal phrases break these chains, but from time to time the narration is distorted by demonic spells.
The H-Mob intro envelops us in a gloomy preparation with a pulsing percussion in the background, but then the drive tends to escape, held by the fetters of rhythm, but with the vocal it pulsates on the verge of average tempo.
After a brief twilight, the vocals brings up the trends of the epic narration, enveloping the enchanting shades of ancient fairy tales, but in the chorus Expulsion marches along the originally laid path of traditional metal music.
Discarding doubts and reflections Dread and Cruelty Thrive is carried away by the whirlwind of impetuous drive of instrumental passages, introducing elements of reflection with vocal phrases. Dark drive and pulsating changes of the Rarity Maker main motive are covered with charming canopy of guitar solo. The final composition of the album Walls Grow Again begins as an inspired romantic ballad, but before the vocal comes in, the bubble is overwhelmed with gloomy forebodings, the vocal picks up a slightly increased tempo and parades as the mid-tempo march.