February 19, 2020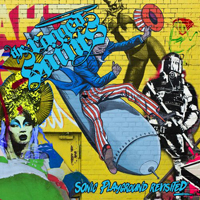 Calling to readiness for accomplishments, Never Gonna Let You Down envelops the vocal narrative with the artistic whirlwinds of the musical narrative, raising the chorus to the top of the musical narrative with a bridge. Bringing the greatness of the musical symphony to the introduction, Like a Spinning Wheel continues the The Ragged Saints - Sonic Playground Revisited album with freedom-loving waves of restrained drive, preserving the mid-tempo power and bringing inspiration and emotions to the vocal part.
Combining an inspired procession with a lyrical mood of musical sound Take Me with You marches on the verge of a ballad. The Secret in Our Hearts main motive 2 appeals to the styles of the incredibly popular music of the 80s. Just Believe complements the romantic appeals of a bewitching ballad with the melodic echoes of past memories.
The majestic procession of mystical appeals rolls the musical canvas of the Absence of Light epic anthem. Returning again to the hit sound, Always Forever elevates the style of the 80s of the last century to its banners, confidently and significantly waving them in the chosen path. Inspiringly bringing to the forefront of the musical image, melody Pretending Diamond marches on the verge of a mid-tempo march and a thoughtful inspired ballad.
Carrying an incredibly exciting musical motif Turning Cold weaves vocal phrases with musical passages in a bewitching dance. Supernatural completes the album, alternating the rhythmic procession of verses with inspired ascension of the chorus.