January 16, 2018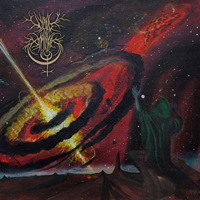 The swift passages of the epic tale Remnance of a Ghost Haunt winds the annals with their stream of melodious drive, creating an exciting atmosphere of heroic battle, anticipating the subsequent vivid canvas of the whole album Void Omnia - Dying Light. A confident procession, replacing the march with a fast race, completes the composition with a bright inspiring melody with the phrases of the growling and screaming on the background.
Combining the rapid melodic music streams with the fog of a dark enchanting ballad Fallowed Remembrance creates an unforgettable atmosphere of ancient fairy tales, evoking memories of ancestors and long forgotten knowledge.
The swift, unyielding drive of Singularity song captivates in its sound after the melodic fog of entry, vigorously and stubbornly pumping the waves of stubborn music rushes.
Starting in a wonderful enchanting enchanting pens of a brooding ballad Of Time sharply picks up the pace, leaving the same melody on the foreground that preserves the magical enchanting atmosphere even in so unrestrained drive. Then comes the soft haze of a brief respite, culminating in a violent wave of melodic flow of drive, then the vocals complement this so diverse composition with his party starting with melancholic meditations, then supplementing the next rush of the drive, which is summed up by so charming melodic and symphonic part that is anticipating the final breakthrough.
The enigmous fog of the mysterious Emptied Heartless intro anticipates the rapid impulse of musical fury, which is accompanied by rabid and emotional phrases of screaming. Then the impenetrable dark fog from the introduction returns, enveloping the growling vocals with the soft and ghostly temptations of a viscous musical haze. In the subsequent musical image, the tempo changes are combined, various melodic transformations are completed - the composition is completed by the combination of screaming and growling and restless musical drive.
Over the deadly whirlwind of the furious dance of the main motive, the flags of melodic guitar motifs are flowing, combining in a spectacular music stream of Ad Infinitum song that completes the epic chronicle of the album.