July 23, 2022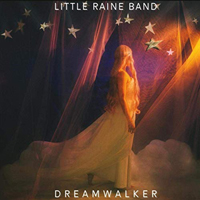 The title track begins the musical narrative of the Little Raine Band - Dreamwalker album with a mysterious fairy tale, complementing the vocal reflections with the artistic charm of musical variations. The Fiery Hoop song is even more captivating to the epic expanses of medieval fairy tales, enchanting with the musical transformation of epic tales. The Trying To Fly musical tale combines vocal assertiveness and background musical echoes of Tibetan motifs, alternating vocals reflections and musical improvisations in the foreground of the musical image.
The music rises with a sparkling ascension of playful artistry, soaring in the Fooling Around sound together with vocals inspiration and preparing the listener for the melodic charm of the No Mans Land romantic ballad and the mesmerizing mystery and soft artistry of the Artificial Love musical composition.
Musical improvisations and artistic charm of the sound envelops the listener with sparkling covers of melodic charm, complementing the Other Side musical image with wise vocals reflections that anticipate the unity of cosmic currents and the romantic sound of the Settled Sun final composition of the album.