November 11, 2018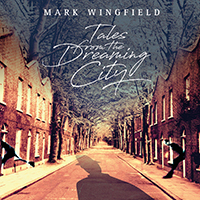 The charming The Fifth Window song motif envelops you with thoughts of thoughtfulness, weaving in a mysterious glow of guitar and keyboard passages, progressively and significantly wrapping them muffled fabulous motifs in the final part. The vague finale of the previous composition continues in sad sadism, bringing to the I Wonder How Many Miles I've Fallen track's forefront a sad melody led guitar solo. Then the guitar solo slows down the narration of the Mark Wingfield - Tales from the Dreaming City album, giving the subsequent composition a feature of the mysterious fog of obscure legends and ancient tales, the chime of inclusions gives a shade of oriental folklore, the guitar dances in an incredibly progressive and complex manner.
The gloomy fog of mysterious fairy tales envelops the atmosphere of forgotten legends, rising in obscure images on The Way to Hemingford Grey. Then the memories go back to the enchanted domination of the experiences embodied by the delights of the guitar solo. Continuing the wave of foggy romance Sunlight Cafe raises incredibly fabulous passages in the middle of the composition, intertwining the trends in a complex and mysterious way mystical reviews, then again returning to thoughtful romanticism.
Focusing the narrative on the main motive Looking Back at the Amber Lit House leisurely reveals the temple of reverie, deliberately thinking about the surrounding phenomena and likely developments. In the middle of the composition, thoughts are woven in an obscure mist of doubts and disputes, but after a brief pause, they continue to atmosphere of thoughtful reflection.
The main motive of This Place Up Against the Sky leisurely march, enveloped in a bewitching background of muted keyboard passages. Creating a majestic atmosphere around. Doubtful in his sounding of a guitar solo, the rhythm mysteriously and progressively complements guitar doubts with notes of selectivity and ambiguity of the way.
The music departs to the area of mysterious conjectures, At a Small Hour of the Night guitar solos moves to the background, complementing the muffled pulsation of the bass guitar and keyboard background. In the foreground of the composition, the drums dance incredible pirouettes.
The solemn significance of A Wind Blows Down Turnpike Lane saga surrounds with majestic melodic motifs, weaving an enchanting lace of majestic sound from instrumental passages.
Ten Mile Bank precedes the final composition, setting an intriguing background, returning forgotten memories and bringing playful notes with disbelief in the lost opportunities. Thoughtful guitar passages with sophisticated keystrokes anticipate the final part of the composition, in which, wrapped in the mysterious atmosphere of the keyboard background, the guitar dreams of unimaginable changes. The charming main motive of the final composition of the album The Green-Faced Timekeepers sneaks through a veil of mystical chime, as if invisible fairies ring ghost bells, shrouding music in a mysterious and mysterious atmosphere.