February 18, 2021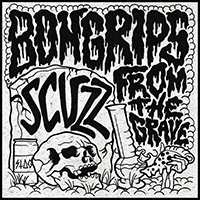 Twisting an artistic forehand of musical variations, the Triple Nipple song takes us into an unrestrained dance that gets bogged down in the twilight of musical mystery. The appeal of the frightened lady anticipates the musical story of the Roadkiller composition, which continues the musical thoughtfulness of the Scuzz - Bong Rips from the Grave album with variable musical solutions. But then the guitar passages soar in an accelerated whirlwind of inspiration, wrapping around the rhythmic axis of the main motive. But then follows a leisurely procession through the gloomy haze, full of traces of mystical ghosts.
Beginning with a soft and gentle romanticism, the Sentient Vomit then unrolls the musical canvas of the majestic anthem, ending the musical measures with guitar improvisations. Whipping up a whirlwind of intriguing guitar passages, the Devil's Dong composition enthralls the audience with exciting musical motifs, enveloping in their variations and creating a fascinating atmosphere of artistic musical solutions.
Whirling into a playful dance into the intro, the Piss Bucket then gets bogged down in a painful procession. But the bright guitar solo again brings back the atmosphere of inspiration and positive emotions. But the painful finale anticipates the development of the musical essence, embodied in the gloomy motives of the Rock Snot stern march, pulsing with the twilight mystery of the dark procession. Once again, the sparkling artistry of guitar riffs and solos brings sparkling notes of musical inspiration, culminating in a relaxing lounge. The Antifreeze Injection puts the final point of the release, rolling with mid-tempo reflections, culminating in a swift embodiment of a thrill for adventure, ending with a country-style acoustic guitar solo.