May 28, 2016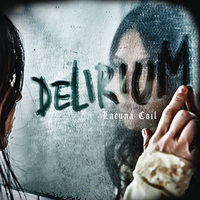 The House of Shame starts that artwork without any shame, midtempo, aggressively and with a lot of power Lacuna Coil - Delirium (Limited Deluxe Edition) .
Broken Things continues this story more thoughtfully, with great influence of female vocals. Rhythmically, meaner, sharper it sounds, however!
The title track Delirium begins mysterious and enigmatic suspense from the first notes. Its name repeated often and much ... where's squirrel?! You can't see it?! But it is there! Yeah - that's Delirium tremens, that's all!
The pace isn't accelerate in the Blood, Tears, Dust but sounds plumping its journey, don't hesitate to tighten, but sometimes appealing to the lyric notes of singin' Lady!
Lady starts to Downfall at all! Immediately lyrically and melodically, saturating the sound composition by the minute, by the middle of gaining highest density and severity!
Children sings - "tick-tock"! They just asks about - Take Me Home! Then the male vocal lead a leisurely narrative in anticipation of lady's voice. With the connection of the female vocals palette becomes more complicated, intricate and mysterious!
A woman's voice comes from the very beginning of the You Love Me 'Cause I Hate You. Well - from love to hate is one step, this ballad tells the story of this step.
The guitar transmits somethin' like buzzing swarm of insects in intro of Ghost in the Midst. And then the lady tells the story of the ghost in the fog and haze.
Everyone has a strangeness, their "skeleton in the cupboard". So female vocals starts to tell about My Demons, slowly, dreamy and lyrical story. Well, sometimes the demons are not belligerent, aggressive or fierce!
Claustrophobia in a mode of dialogue between female and male vocals discusses this phobia, covering musical it from different sides.
Jerk starts Ultima Ratio, but sprightly start, which gives reason to expect a fast pace does not justify expectations. Ragged strange rhythm runs unhurried.
Symphonic, intriguing beginning at Live to Tell reborn in a quiet, insignificant accompanied to bard lady, that tells her tale to all of us.
Breakdown - bonus sad story about concomitant failures and related sorrows, in the middle of the song folklore motives involved in this dark tale.
Bonus track Bleed the Pain ends the album, difficult and progressively juggling rhythm and melody, as if something hot and irresistible they are. The curtain falls, applause!