March 23, 2016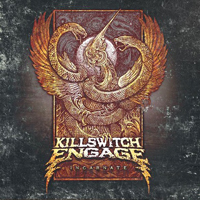 Thoughtful beginning of Alone I Stand starts Killswitch Engage - Incarnate (Special Edition) and lyrical ending of the first track. After the end of entry - the frenzied chopping riffs and emotion of Hate By Design.
A slow, thoughtful, with the support of growls and screams - Cut Me Loose sounds so.
You can hear a lot of classical death-metal in the Strength Of The Mind. You have misshearded - they plays their own music.
Just Let Go - angry'n' furious couplets and lyrical chorus. The slow, viscous beginning of Embrace The Journey... Upraise with accentuated bass guitar - while vocalist roars "LETS GO!" At this for a while anger and rage tape ON! Not permanently - just explosions and flashes.
Acoustic guitar intro in Quiet Distress make you thing about the whole world...noup! There's furious riffs after - argh! maybe ... noup! Just an emotional tales later.
Until The Days begins with the fast riffs and quickly strikes you from lethargy. Slow, depresses into the meaning start of It Falls On Me, continues to instrumental solos, and then compresses and makes heavier sound of the the track.
The Great Deceit sounds like fast and powerfull surgery to past injuries. We can't left on - have to be like in ballad We Carry On!
Delayed, ambiguous entry of Ascension expectations of further shares at many paths. Wild dances at the beginning of Reignite -and no one calms down - slow down just for the sake of questions to each other.
Triumph Through Tragedy - the story turns on a growl - screaming, growling, harsh - no moaning!
The rhythmic, marching start with the growling harsh - that's Loyalty. Loyal or not - you have to choose: in the middle you heard that question to all around.