July 02, 2018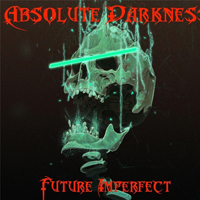 Furiously scattering barriers and resistance furious drive in the bridges before the World in Disarray chorus enveloping sublime melody begins the Absolute Darkness - Future Imperfect album is quite an impressive combination of power and melody. In the instrumental part, the guitar solo carries away the perception in the vastness of the enchanting romanticism, raising the epic melody to the transcendental distances.
The solemn riff of Democratic Suicide intro is reminiscent of the announcement by the heralds of the procession of the royal suite, then the music increases the tempo and deduces the narration of the vocal part to the forefront of the musical image. In bridges and choruses, music is rapidly accelerating in playful turns of enchanted passages.
However, in the mid-tempo music, many lacked the swiftness and pressure - Betrayal fully embodies this, concentrating on vocal phrases in choruses.
The pulsating heartbeat of the Barricaded In main motive is marching with an impressive mid-tempo march - without unnecessary delights and vague variations. Powerful, clear, confident and very effective!
The thickening musical tones On My Way to Death slowly and meaningfully sound a dense and spectacular ballad, then expanding the composition frames to the mid-tempo anthem.
The majestic wave of the H2 Oblivion main motive proudly marches to the chorus, which rolls over the majestic hymn with meaningful reflections, confidently bringing its thoughts to the sophisticated listener.
Truth Is Dead as if continuing the previous song, getting bogged down into the introduction, with the connection of the vocals being carried away in a stream of drive to obscure goals, bringing the vocal part to the fore in the chorus.
Gloomy, cautious twilight 2029 completes the album, before the introduction of the vocal, pumping the stream of drive, retreating into the background in mid-tempo reflections, bringing in vortex guitar solos in bridges and returning power and drive in the chorus.