June 27, 2019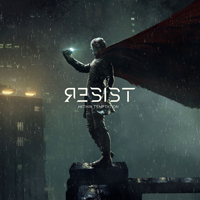 An epic classic, with The Reckoning (feat. Jacoby Shaddix) solemn march ends with the addition of fierce growling, then charming in her enchanting vocal delights Lady Sharon den Adel reveals the true essence of the Within Temptation - Resist (Deluxe Edition) (CD 1) album. Then the male vocals, complementing the main vocal part, complements the musical image of the composition with clear vocals, then intertwining with the female vocals in a duet.
The vocal part comes to the forefront of a musical image, intertwining a charming musical symphony sparkling with sparks of futuristic electronic reflections, creating intrigue before the ascension of the main motive of the Endless War composition in the chorus.
Romantic chants of female vocals are shrouded in epic veil of Raise Your Banner (feat. Anders Friden) musical symphony, returning to the limits of the knight's battles and the machinations of warlocks and evil necromancers, male vocals complement the vocal part with "Blood for Freedom", emphasizing the development of new musical fragments.
The futuristic passages intertwine with the epic symphony, raising the vocal part above the clouds on the wings of the digitized dragon, glinting in the light of the Supernova star. Returning to the original origins of the artworks of this band, Holy Ground creates an enchanting action of an epic image, but then the vocals bring novelty to the recitative, then weaving these contrasting trends in a single musical composition.
Alarmed and intriguing, In Vain acts as expands the scope of the group's creativity, contributing to the development of popular music. The composition is on the verge of a mid-tempo synth-pop composition and a ballad of popular music. Male and female vocals are woven together in a charming duet unity, then male vocals recede into the background of the Firelight (feat. Jasper Steverlinck) musical image, complementing the delights of the singing lady with hints of their romantic reflections and alternating with her in the following verses.
The vocal part indicates the direction of the Mad World main motive, the musical passages envelop the vocal phrases with a tunnel, sparkling flashes of futuristic guitar and keyboard reflections. A fascinating symphony braids intriguing lace in verses, raising the chalice of the Mercy Mirror main motive in the chorus. Trophy Hunter completes the album with a pulsating march, in the gloomy atmosphere of which the female vocal raises the banner of feelings, weaving a lace of anxieties and emotions in a single canvas of inspirational musical lace.
On the second disc of this release Within Temptation - Resist (Deluxe Edition) (CD 2) the compositions appears in the instrumental interpretations.