February 20, 2020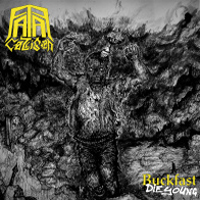 Rapid rolls and unbridled musical dance Abomination begins the story of the Fatal Collision - Buckfast Die Young album, introducing unbridled fury with the vocal narrative. Bringing a pulsating heartbeat to the rhythmic component, Bible Basher intertwines guitar riffs in a bewitching dance, exploding with vortices of vocal indignation.
Already in the name, S.S Slaughter is setting the notes of a musical thriller, the music brings a ragged rhythmic structure and vocal transformations scattering with musical rhythm. Sealing and hardening the rhythmic structure Wage War condenses the sound, forcing waves of severity. Remaining fierce, the Cop Block introduction introduces echoes of hits from other styles, but the vocals initially diffuse these echoes, however they return in a chorus. Bernards Law adheres to a fascinating sound and focuses on the procession of the main motive, captivating behind its changes.
The title track of the album Buckfast Die Young captivates with the swift narrative of the verse, combining it with the chorus in bewitching variations. After thinking of a guitar solo in introduction Wake Up rushes uncontrolled drive the main motive in a rapid race. Then Brain Slug condenses the sound, hardening the musical style and giving the album a certain extension of stylistic horizons. But Referendum completes the album again with rapid rampant.