February 25, 2020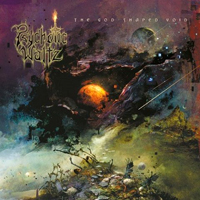 The obscure mystery of the twilight atmosphere of musical ambiguity precedes the introduction of vocals by obscure echoes of fairy tales. Then the Devils And Angels music lifts the whirlwind of the mesmerizing sound of the dark symphony and transforms the rhythm to a medium-tempo pulsation, against which the vocals initially whisper in muffled doubts, but then ascend with the sound of the chorus in the whirlwind of inspiration. The pulsating Strandedmarch full of progressive notes and complex musical dimension weaves a bewitching lace of epic sagas, continuing the Psychotic Waltz - The God-Shaped Void album with impressive musical artistry.
The Back To Black terrible story, supplemented by a gloomy lyrical component, is complemented by the musical atmosphere of a terrifying dusk. All The Bad Men brings the vocal part to the forefront of the sound, complementing the vocal doubt with a twilight musical atmosphere. Full of epic romanticism, the ballad exalts the despair of The Fallen confessions, in their detachment shrouded in the detachment of the abyss of darkness.
Starting with a soft and gentle chime of acoustic guitar strings While The Spiders Spin raises the banners of the triumph of melody and envelops the vocal part with lace of symphonic grandeur, decorated with progressive artistry. Pull The String vocals phrases full of doubts and insecurity appeal to the perception of one's problems and understanding of adversity. The chime of acoustic strings envelops the Demystified vocals phrases filled with sadness and sadness with the covers of a symphonic crezier, complemented by the weeping of wind instruments.
Paving the road with stones of doubt and cautious forebodings, Sisters Of The Dawn trampled these stones with a procession of the main motive, marching with a stubborn march. In The Silence completes the album with the soft atmosphere of a romantic saga, weaving together in a symphonic lace of doubt and hope.