April 18, 2021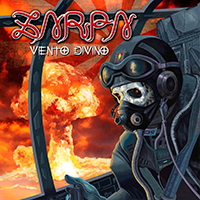 The epic symphony begins the sound of the Al Despertar composition with inspirational greatness, then complements the opening of the musical canvas of the Zarpa - Viento Divino album with a vocal part, combining the duet of the verse and the inspiration of the chorus. The Centinelas De La Tierra continues the sound of a musical fairy tale, giving it rhythmic persistence and whirlwinds of drive in guitar solos, while maintaining symphonic artistry and vocal significance.
The guitar solo of the intro sets the melodic essence of the Corazon De Dragon main motive, then blends in a single musical flow with restless guitar riffs and disturbing vocals. The mystical mystery of the Yo Contra El Mundo mid-tempo anthem marches confidently through the gloomy mysteries of the echoes of ancient fairy tales. The La Bestia intro's guitar solo whirls a whirlwind of fast-paced drive into symphonic inspiration. The Viento Divino title track mesmerizes with the melodic charm of an epic saga, combining the artistry of instrumental passages with the inspiration of hardened vocals experiences.
Following the vocals, the sound of musical variations hardens, but the El Dia Final song holds the tempo down to a harsh ballad and severe battle march. Los Ojos De Ibrahim track enchants with the melodic spice of oriental motives. Once again, the guitar solo of the La Caja De Pandora introduction carries away with a swift whirlwind into melodic artistry. The final composition of the album Tiempo De Luchar brings the vocals to the forefront of the musical image.