June 26, 2018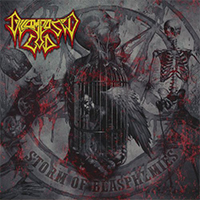 So severe wave of unrestrained fury, the first track Delusion begins the Decomposed God - Storm Of Blasphemies album in the dominance of a pulsating rhythmic drive that seeks to supplement vocal phrases that they manage only partially - but the musical delicacies do not tend to unnecessarily flowery, although they suffer vocal changes, allowing them to dominate the completion of the composition. But the vocals appeal to the dispute, denying the frank dominance of guitar frenzy, by interrupting musical passages with sophisticated reflections - which causes the Hypocrite Liar guitars to appeal to an unforgettable classics of style, paying tribute to it. So tough and viscous musical fog envelops the Memorial Rests introduction with a heavy and burdensome atmosphere of a thick haze, then the vocal breaks out in a swift stream of rampant rage, slowing down its jerks for reflection and reflection on the further efforts.
The dusky mist covers the band's title track Decomposed God with a black whirlwind of dark charms, enveloping in a thick impenetrable veil of invisible dark conjectures, through which, however, the marvelous melodism of the main motive can be seen.
Disturbing doubts uplift nervousness, building an outline of embarrassed fears, but the introduction of the vocal precedes the development of the Pestholy composition in the exciting and diverse reincarnation of the death metal legends.
In a hurry, impatiently pulsates with unrestrained hard and unstoppable waves of drive, Impregnated God Of Lies swiftly exudes around razivi rage and rabies. But in the chorus, anger pulsates more powerfully, slowly and toughly.
A captivating whirlwind of the No Gods main motive leads the narration in a gloomy dance, the vocal part is full of uncertainty and awareness of the ambiguity of its own role. But then a pulsating march directs the narrative into a single channel, from time to time exploding with unrestrained explosions of instrumental bridges. Proud prizes are presented as Ecce Homo epic legend of ancient aspirations, meditating on future transformations and carried away in the furious stream of a sharp drive, driven by mysterious melodic guitar riffs.
The dense flow of drive appeals to the style legends and the ghosts of the musical inspirers, enveloping the meaningful Kill The Bastard vocal reflections with a dense whirlwind of drive.
Mysterious obscure motifs intertwines in sacred lace, intertwining with Dawn Of Celestial Shadows vocal reflections completing the album, perhaps the most diverse and, perhaps, best composition of it. However, she will not spoil the impression - on the contrary, as if crowning the sound of the album with the jewelry of its sound!