February 04, 2018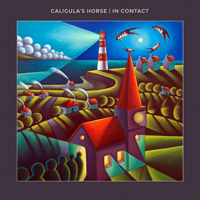 Marvelous amazing symphony of instrumental frills Dream the Dead begins the Caligula's Horse - In Contact album. Then the vocals give the fascinating music romantic shades, creating magical illusions and ascending in tonality on the powerful foundation of the chorus.
The wave of drive in alarming tones brings the influence of cautious prophecies in the Will's Song (Let the Colours Run) music, the vocal introduces an incredible complication of the rhythmic structure, discarding any attempts at simplification.
In a romantic and sensual atmosphere, The Hands Are the Hardest creates the basis for experiences first, enveloping the whirlwind of emotions - calm and restrained in verses and saturated with feelings and experiences in choruses.
Then a soft acoustic ballad Love Conquers All, to whose title the appeals were in the previous composition, continues this celebration of feelings and sums it up to a lyric result.
Solemn mood and nervous experiences are combined in complex sparkling dance of Songs for No One, describing incredible musical passages around vocal experiences.
Acoustic ballad Capulet returns restrained romanticism, in a calm and soft sounding, raising the vocal tonality to out-of-bound heights.
Pulsing into the prelude, which precedes the bright festive main motive, the Fill My Heart vocal party first deliberately thinks about the fates and events in the world around, then creates an incredible extravaganza of shades and images.
Reflections of the wise man Inertia and the Weapon of the Wall about youth, who are looking for simple solutions in all situations and do not understand the atmosphere of the revolution at all. But it's you and I, "he says. Secretly hidden vocal phrases, quietly and insinuatingly broadcasts prehistory, then The Cannon's Mouth triumphantly throws up the musical image of raising the story over the fog of burdening ordinary being.
Final album's composition Graves appears as a separate artwork, combining romantic passages, lyrical meditations and explosions of violent drive. In the instrumental part, such incredible and exciting improvisations carry consciousness to illusory dreams, creating ever new images that sparkle with dazzling light.
After such a wonderful song in this edition remains rethinking of the previously released composition Atlas (revisited).